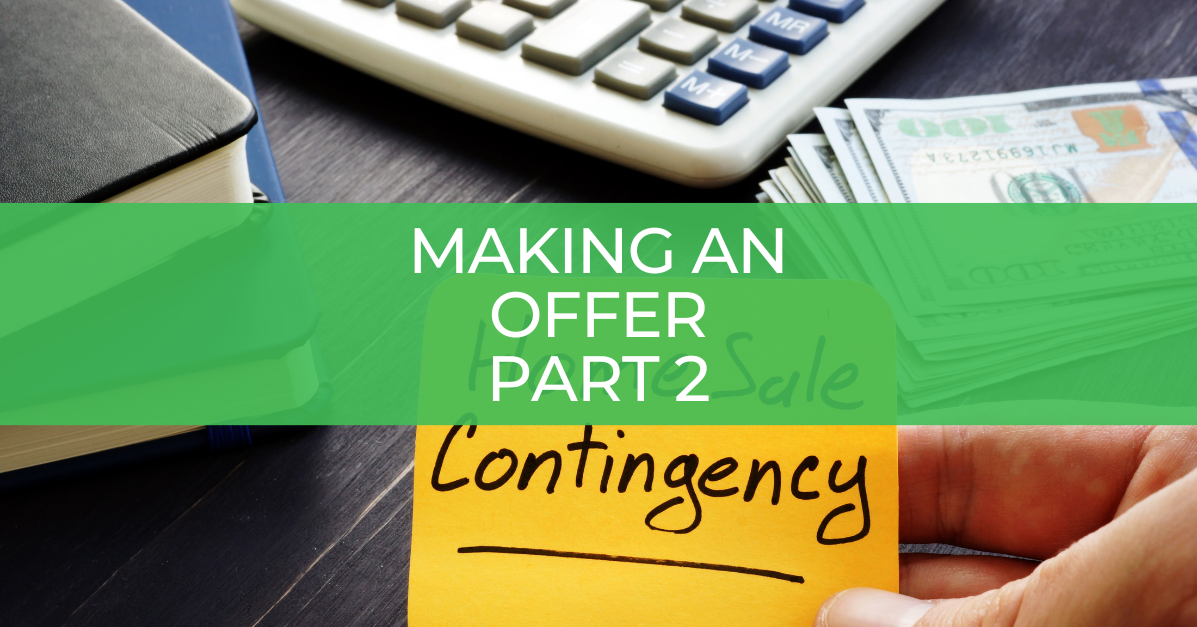 Making an Offer – Part 2 Contingencies
Conditional/Contingent Offers
You've made an offer and negotiated a purchase price, so it's time to learn about the contingencies that impact a home purchase contract.  When you make an offer, you might make a conditional or contingent offer.  This means that your offer is only valid if another condition is met.  Common contingencies include passing an inspection on the house or the sale of your current home.  It's important to meet all conditions stated in the terms of the contract. Let your real estate agent be your guide to make this run smoothly.
Contingent on Sale of Current Home
Making an offer contingent on the sale of your current home requires that sale goes through before you close on purchasing your new home.  This adds complexity as there are many moving parts.  Each situation is unique, so consult your loan officer and real estate agent to help guide you through this process.
Contingent on Inspection
Making an offer contingent on the inspection means your offer can be revoked or changed if the results of the inspection show any major repairs.  You can negotiate for the seller to make the repairs or provide a monetary concession in some cases.  Most states and real estate contracts have standard time frames (such as 10 days) and negotiation parameters built into the language of the contract.
Some homes are marketed "as-is."  If a home is marketed "as-is," there's usually no negotiating the repairs.  Even though the seller is unwilling to make repairs, you may still have the home inspected to ensure you're not missing anything major.  An inspection may show you something so significant you prefer to walk away from the property altogether and cancel the contract. Read more on the value of a home inspection.
Subject to Loan Approval
Subject to loan approval is a common contingency in most offers.  This means your offer depends on your loan being successful.  Some contracts feature a deadline different from the close of escrow date. It's important to be aware of this deadline and work diligently with your lender and real estate agent.
There are many contingencies and conditions, so don't be afraid to ask your lender questions. You're welcome to contact E5 Home Loans with questions or to see what loan products best fit your situation. Even if you're pre-qualified or under contract, you can get a Second Opinion with E5 Home Loans to see how much you can save. Unlike many mortgage banks, E5 doesn't charge a bunch of crazy fees.