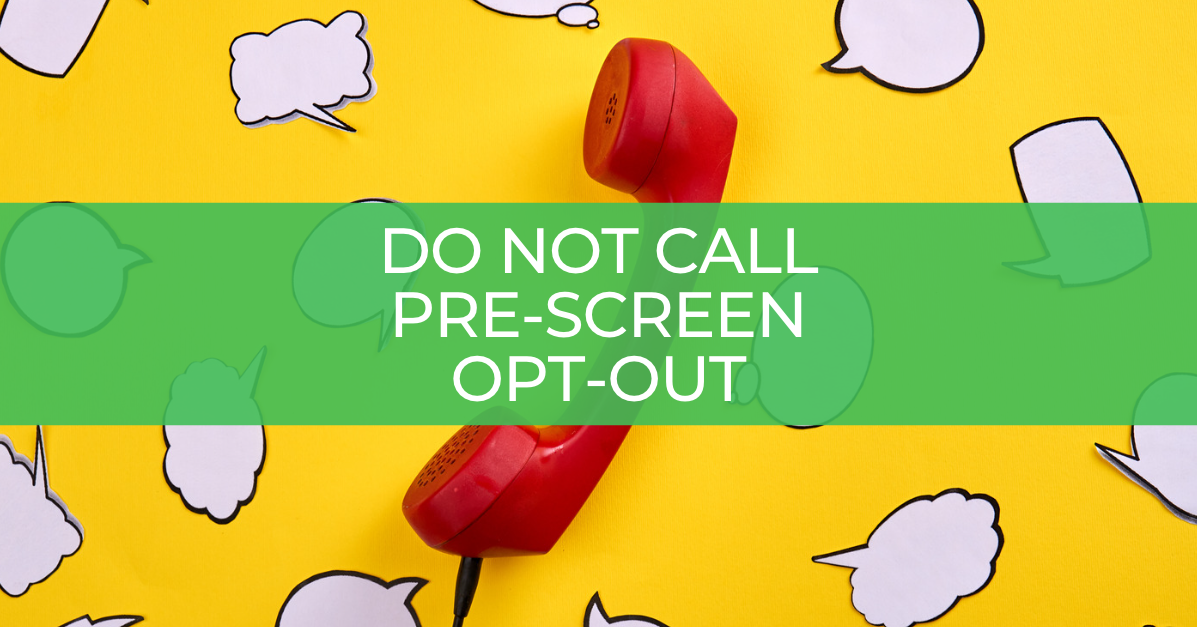 Do Not Call pre-screen opt out before pulling credit
The National Do Not Call (DNC) Registry gives you a choice about whether to receive telemarketing calls. When consumers shop for a home loan, one of the first steps in a pre-qualification or refinance involves pulling a credit report.
To prepare, E5 Home Loans advises clients to add their numbers to the National Do Not Call registry. We also recommend registering with credit agencies to opt out of sharing their personal info.
Why opt out, and why prior to a credit pull?
The first benefit is easy…registering on the DNC reduces the number of unsolicited phone calls. The reason to do it prior to a credit pull is to avoid even more calls from telemarketers that purchase "trigger" leads. Opting out with credit agencies can also reduce the amount of junk mail you receive.
What are "trigger" leads?
When a consumer's credit is pulled, reports come from the 3 major credit bureaus (Experian, Equifax, and Transunion). These bureaus have a LOT of consumer information. They make money selling this information. When a mortgage credit report is pulled, the bureaus will sell the contact info within a day to other lenders wanting to call these potential loan customers. Paying for these leads contributes to the higher lending fees many national lenders charge that E5 Home Loans does not.
The good news: Any companies purchasing these trigger leads are required to run the list against the National Do Not Call Registry. Telemarketers must remove all consumers registered on the DNC.
How to confirm or register your number with the DNC
Go to DoNotCall.gov or call 1-888-382-1222 (TTY: 1-866-290-4236) from the phone you want to register. It's free and your registration will never expire.
If you register your number at DoNotCall.gov, you'll get an email with a link you need to click on within 72 hours to complete your registration.
Consumers can also opt out directly with the credit bureaus through the official Consumer Credit Reporting Industry website: optoutprescreen.com
This allows consumers to Opt-In or Opt-Out of firm offers of credit or insurance.
Registered and still getting unwanted calls
If you've already added your phone number to the DNC Registry and are still getting a lot of unwanted calls, odds are the calls are from scammers. Read about blocking unwanted calls to find out what to do about them. If you answer one of these calls, hang up and report the call to the FTC.
For more questions regarding mortgage credit reports or getting pre-qualified to buy a home, contact E5 Home Loans.
E5 Home Loans' experienced loan officers guide borrowers through the loan application process, in addition to finding the best loan product. This is part of our 5-star service, that's fast and without a bunch of crazy lender fees.
For more information regarding mortgage credit to help increase your score so you're eligible for the lowest possible rate, check out these helpful articles: