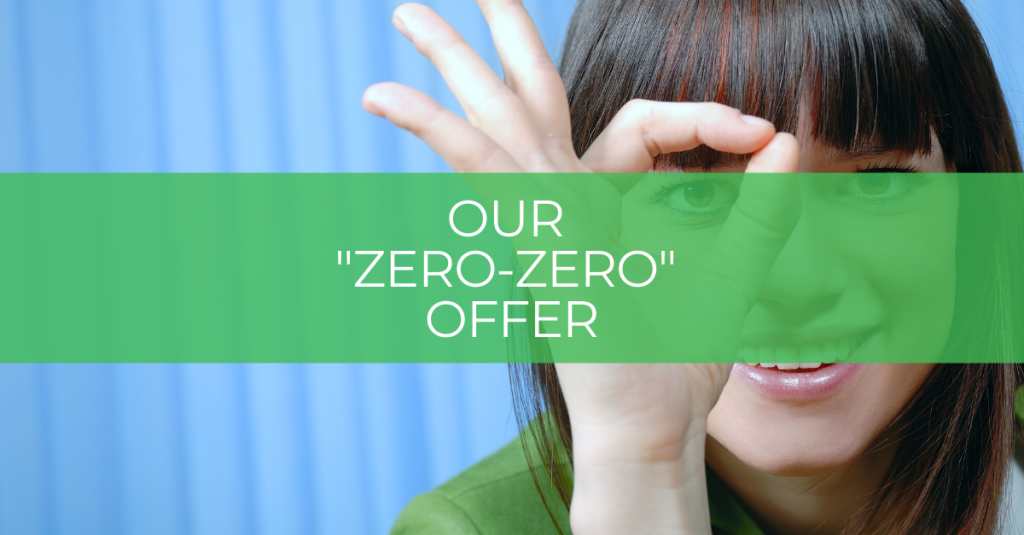 As you might have guessed from "Zero-Zero," you get something for nothing. And you're right. At E5, we believe in shopping your home loan for the best fit loan program with a great interest rate. Most important, we don't include a bunch of crazy fees.
The value of a second opinion
A homebuyer recently contacted us for a second opinion. We helped them save more than $10,000 in loan costs by charging no fees and covering the appraisal cost, while offering the same rate paying NO points. In fact, the other lender was charging more than$6,000 in origination and crazy fees. With E5 Home Loans, not only did we not charge any of those fees (Zero-Zero), the buyer actually received a rate credit from E5 for more than $4,000 to apply to third-party fees and prepaid items. All of that for the same exact interest rate!
What are crazy fees?
Most borrowers don't realize how out of hand some fees can get with other lenders. Other lenders can charge fees for applications, origination, processing and underwriting. In order to buy down an interest rate, the points borrowers pay can be significantly higher.
If a lender's interest rates are high to begin with, paying points to get a lower rate with them amounts to throwing away your money.
The E5 Zero-Zero Offer doesn't charge any of these fees. No origination, no processing, no underwriting fees. Zero!
Now through April 30, 2022, there is actually a third "Zero." E5 will cover the appraisal cost on qualifying purchase loans. Homebuyers can receive up to a $600 credit towards the appraisal on a primary home purchase, regardless of loan type.
Did we mention that our lower margins mean we find lower rates for borrowers?
Learn more about our "Zero-Zero Offer" and get a quote today. We encourage you to get a second opinion, at the very least. If we can't offer you a better option, you can rest easy knowing you're getting a great deal already.
As of 2/9/2022, the Zero-Zero Offer is based on the following: 3.875% fixed rate, 3.929% APR, 360 payments of $1,504.76, $360,000 loan amount for purchase of home, 80% loan to value ratio, and 740 FICO score.