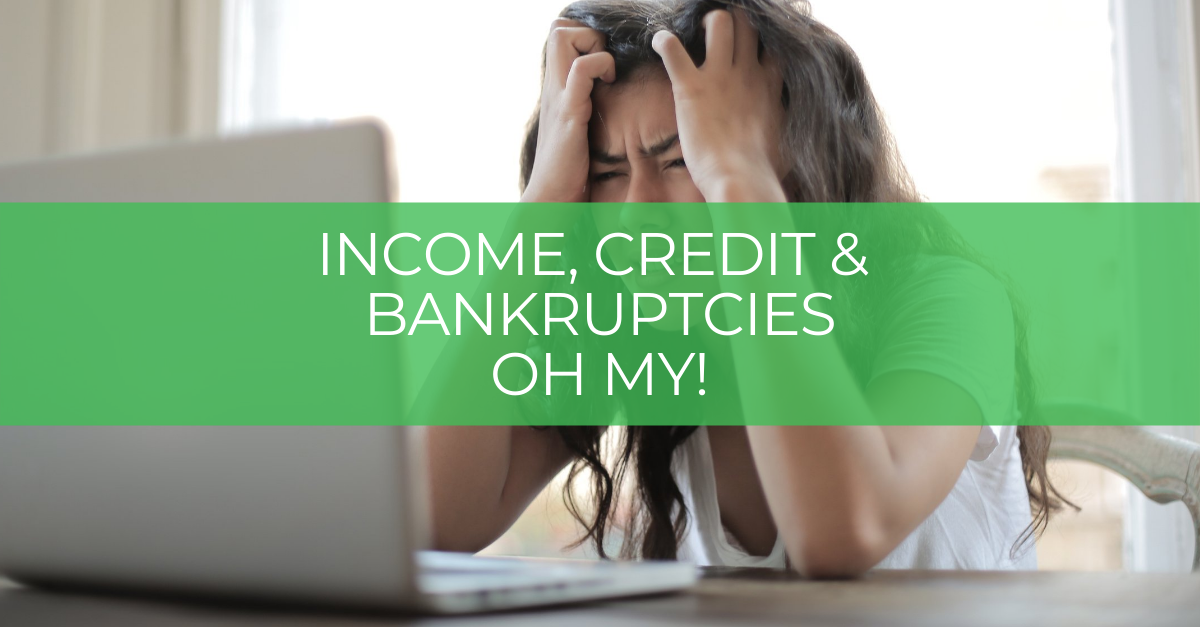 Don't Let Special Circumstances Keep You from Getting a Mortgage
Income, Credit and Bankruptcies Oh My!
There are a whole bunch of special circumstances that can affect your ability to qualify for a home loan. Getting straight answers, and sometimes a second opinion, regarding the rules and guidelines can be the difference between getting a home now, having to wait, or not even ever getting a home loan.
Banks and mortgage companies underwrite their loans according to a base set of standards. These are provided by the agencies that oversee the products they sell. i.e. FHA, VA, USDA, Fannie Mae and Freddie Mac. To protect themselves from risk, banks and mortgage companies add their own underwriting guidelines to the base set of standards called "overlays." These overlays vary from company to company and can often cause a prospective homebuyer to quit trying to get approved for a home loan.
Overlays
A potential homebuyer, John, applies with Mortgage Lender A for a VA home loan. John's credit score is 631. All of John's qualifications meet the guidelines for a VA loan, but Mortgage Lender A does not do VA loans for clients with a credit score below 640. John is told by Mortgage Lender A that he cannot get a VA loan. However, this credit score requirement is just an "overlay" for Mortgage Lender A. John doesn't know that. John hears that Mortgage Lender B can likely qualify him. VA Guidelines do not require a 640 credit score. Mortgage Lender B doesn't have the overlay and will do a VA loan with his credit score of 631. John is thrilled!
This type of situation is very common. Dis-information is inadvertently or purposefully spread to potential home buyers by mortgage lenders every day. It is very important to get answers from experienced professionals regarding any special circumstances that you may have as a loan applicant. Just like being diagnosed with a serious illness, it is important to get a second opinion.
Special Circumstances
Here are some examples that could affect your ability and when you qualify for a home loan:
Bankruptcy – there are very different waiting periods for Chapter 7 & Chapter 13 bankruptcies. Certain loan programs allow for qualifying while still in Chapter 13.
Foreclosure, Deed in Lieu of Foreclosure or Short Sale – these circumstances are treated very differently depending on which occurred. The waiting period could range from 2-7 years depending on the type of loan.
2-year work history – for loan applicants that are using work income to qualify, there is a standard 2-year history required along with a reasonable expectation that the employment will continue into the future for 3 or more years. If an applicant has undergone specific training or education for a particular field or job, the 2-year history may not be required. The work history does NOT necessarily need to be with the same employer for the 2-year history. If an applicant has worked a similar position at more than one employer within the past 2 years, they still may be able to qualify for a home loan.
Overtime, Bonus & Commission Pay – using overtime or commission pay for qualification can be difficult if a 2-year history of receiving the pay cannot be demonstrated. There are special circumstances where it can be done, especially related to the pandemic.
Spousal Maintenance or Child Support – in order to use this income for a loan application, proof of the income must be demonstrated via a court order, divorce decree, or some other legal order including a voluntary payment agreement. Additionally, the receipt of the income must be demonstrated as full, regular, and timely payments for at least the most recent 3, 6 or 12 months to be used as qualifying income depending on the type of loan. It must also be demonstrated that the income will continue for at least 3 years.
Collections, Charge-Offs & Judgments – requirements for these accounts vary widely by loan type and also depend on an applicant's overall qualifications. As a general rule, collections and charge-offs do not necessarily need to be paid off. In certain circumstances, they may need to be paid off. Judgments do need to be satisfied, or for certain loan types, satisfactory payment agreements are allowed with restrictions.
The list above is just a sample of the special circumstances that can exist for potential home buyers. Each loan type has 100s of pages of rules and guidelines for underwriters and loan officers. It is very important to discuss anything unusual about your circumstances with your loan officer. If you have any of these special circumstances, it is imperative that you choose an experienced loan officer and mortgage company that will not deny your application with unnecessary overlays or incorrect interpretation of the rules and guidelines.