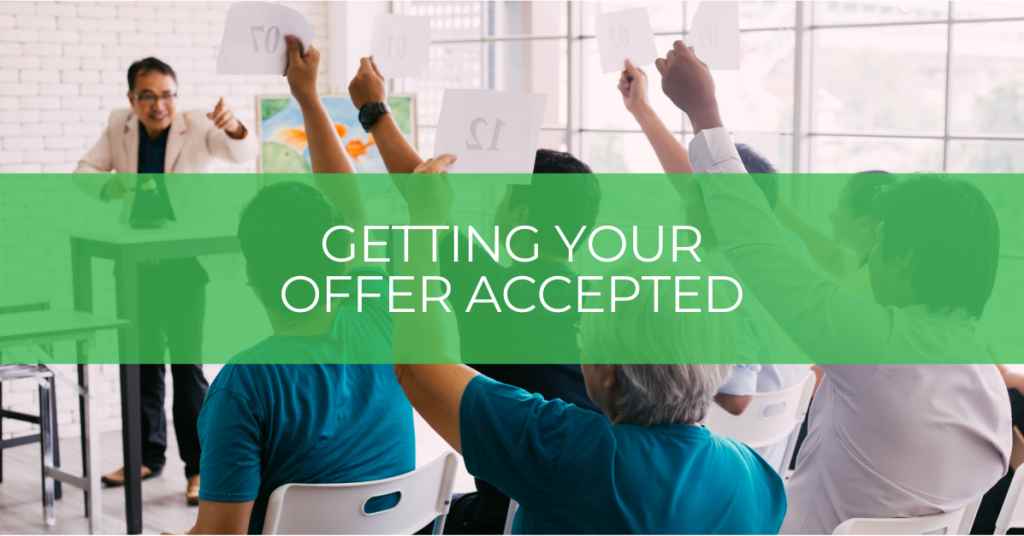 Getting Your Offer Accepted in a Seller's Market
It's a seller's market and getting your purchase offer accepted is challenging. Desirable homes in good condition can receive 10, 20, maybe more than 30 offers. One of those offers is going to win. Why not have it be yours?
Here are tips on how to get your offer accepted in a seller's market
1. Offer to rent back to the sellers for a month or two
Chances are, your seller is having the same challenge finding a new home to buy. Give them some extra time to shop. It shows compassion and is good karma. More importantly, you help them strengthen their offer by not having it be contingent on the sale of their home. If the rent they pay you covers your mortgage payment, it only costs you time.
If you really want to strengthen your offer, let them stay there for a month rent-free. You have at least 28 days from the time you close before your first mortgage payment on your new home is due. A month rent-free may be something easy for you to offer.
2. Increase your earnest deposit
An earnest deposit is typically 1% of the price of the house and is a good faith promise you will abide by the terms of the contract. Most contracts have inspection and contingency periods, so if you understand the terms of these periods and when they end, we say go big! A bigger earnest money deposit tells the seller you are more serious than other buyers. For you, you aren't risking any more money if you keep at least one contingency period. This is a great strategy to discuss with your real estate agent. Go big!
3. Add an escalator to your offer
With multiple bids on a property, many bids might come in higher than the asking price. To prevent being "outbid," consider adding a clause to the offer that will match or exceed higher offers. With the help of your real estate agent, you can place parameters on how the bid escalates, i.e. match higher bids, plus $2,000, or match any offer up to a certain dollar amount, so you stay within budget.
4. Get pre-approved, not just pre-qualified
A pre-approved buyer is stronger than a pre-qualified buyer. Anyone needing a mortgage needs to be pre-qualified prior to shopping. Consulting with a mortgage loan originator and providing some basic income, assets and debt documents help the Loan Originator determine how much you qualify to borrow, and how much house you can afford to buy. Typically, once a contract is signed, the lender does their due diligence to approve the loan.
E5 Home Loans averages 12 days from submittal to final approval. By starting the formal pre-approval process prior to shopping, buyers can strengthen their position with a pre-approved loan that can close even faster if the seller is in a rush. E5 even has a loan product called "Cash is King" that is still a mortgage but allows your purchase to execute as if it's a cash offer (which can be much more appealing to sellers).
5. Sweeten the appraisal contingency
Multiple offers over the list price can worry sellers the house will not appraise for the price you offer. With a regular appraisal contingency, buyers have the option to cancel, and this can scare many sellers. Adding a clause to the appraisal contingency saying you are willing to still buy the house if the home appraises for $5,000, $10,000, or whatever amount less than the purchase price strengthens your offer. A clause like this still protects you as the buyer in case the home appraises for an amount far lower than the purchase price, but it assures the seller you will still move forward with the sale if the lower appraisal amount is within a reasonable amount you agreed.
Communication is the last piece that can put your offer over the top.
Loan officers at E5 are trained to contact the real estate agent representing the seller when our buyer's real estate agent submits an offer. This is rarely done by other loan companies. E5 loan officers use this call to assure the listing agent of the buyer's qualifications and present the buyer's real estate agent and E5 as a reliable team who communicates and proceed as top professionals. The listing agent may be more likely to ensure their seller the transaction will go smoothly when your loan officer is in regular and prompt communication on your loan status. This call sets a clear expectation of availability and communication throughout the entire loan process. For E5Home Loans, that communication begins when you make your offer.
If you're interested in getting pre-approved or pre-qualified and making your most competitive offer to purchase a home, give us a call.