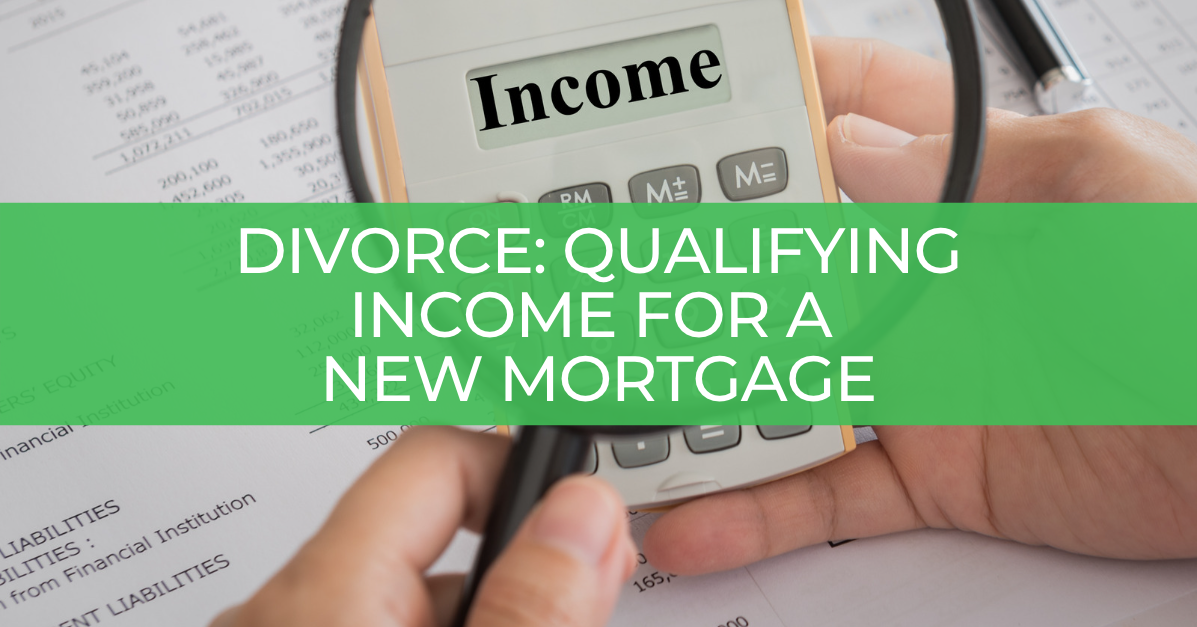 Divorce and qualifying income for a new mortgage
Determining qualifying income is Part 4 of E5's Divorce Mortgage Guidance series. Regardless of the spouse, qualifying for a new mortgage requires consistent and ongoing income that can be verified. For a purchase, the source of the down payment funds also needs verification. We review various scenarios and pitfalls.
Qualifying Income
To calculate income, lenders use verifiable gross monthly income (before taxes). For a working spouse, a loan officer calculates this using paystubs, tax returns, bank statements, W2s, or 1099s. The most common income is from jobs or contract work, which can include, salary, hourly wages, bonuses, and commissions.
Less common income sources are retirement funds, social security, disability, trust or rental investment proceeds. All these must be verified. Most importantly, lenders want to see either a 2-year history and proof (or a reasonable expectation) the income will continue for at least 3 years.
Spousal Support as Qualifying Income
Alimony or spousal maintenance is common for a non-working spouse in divorce situations. Yes, this can qualify as income for a mortgage. During a separation, be VERY diligent in educating yourself before negotiating the divorce terms.
Receiving a lump sum vs. future maintenance payments can impact qualifying for a mortgage.  A lump sum may limit qualifications. There are ways to convert lump sums into trust income and use it to qualify.  Other calculations can be used to qualify with large lump sums as well.
For regular maintenance payments, a 6-month history of payments received is required. Proof the payments will continue for at least 3 years in the future is also required. This can be problematic as some settlements only do 3 years of payments. In this case, the non-working spouse may be unable to use any of the maintenance income.
Non-Working Spouse Mortgage Options
Adding a co-signer is another option to consider for a non-working spouse.  A co-signer is typically a person who is on the loan application but will not live in the home.  The co-signer must have acceptable credit and income to qualify for the new home and their existing expenses.
Down Payment Funds
As discussed in part 3, assuming the marital house was sold and the equity proceeds were split, those proceeds count as qualifying funds for a down payment.  Even if one spouse is retaining the existing home, the exiting spouse may still be entitled to a portion of the equity. This could be in the form of a "buyout" payment, which can be used as qualifying down payment funds.
For questions on what divorce proceeds qualify for a mortgage, call E5 Home Loans. For divorce-specific questions, we recommend consulting a lawyer for legal advice.
E5 loan officers are trained in Divorce Mortgage Guidance. E5 Home Loans also shops the best loan products across multiple lenders. Best of all, we don't charge a bunch of crazy fees. Contact us today.
E5 Home Loans Divorce Mortgage Guidance Series
Part 1 – Divorce – Where Will You Live?
Part 2 – Divorce Housing Scenarios – Retaining the Marital Home
Part 3 – Divorce Housing Scenarios – Selling the Marital Home