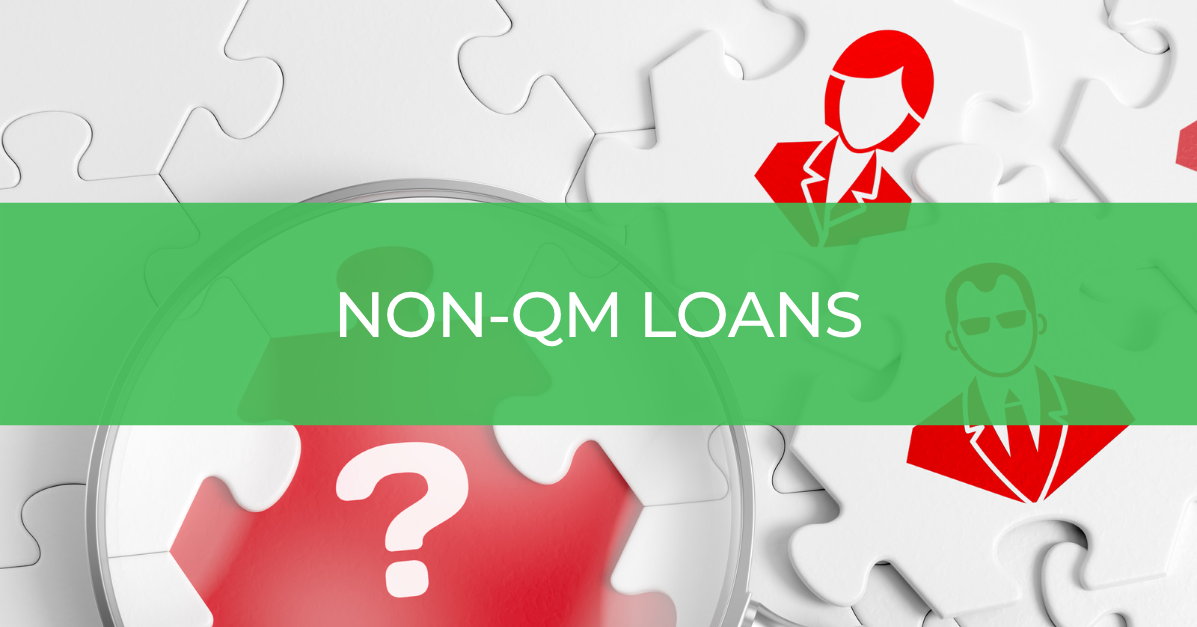 The "QM" in Non-QM Loan
First, it helps to know what the "QM" stands for in "Non-QM Loan."  Let's start with what is a Qualified Mortgage (QM) loan as defined by the Consumer Financial Protection Bureau (CFPB).  The CFPB provides more protection to banks and mortgage companies for mortgage loans falling under the Ability-to-Repay/Qualified Mortgage Rule.
From the CFPB website:

"The Ability-to-Repay/Qualified Mortgage Rule (ATR/QM Rule) requires a creditor to make a reasonable, good faith determination of a consumer's ability to repay a residential mortgage loan according to its terms. The ATR/QM Rule also defines several categories of "qualified mortgage" loans, which obtain certain protections from liability."

https://www.consumerfinance.gov/rules-policy/final-rules/ability-to-pay-qualified-mortgage-rule/
How are Qualified Mortgage Loans verified?
A variety of verifications determine the borrower's Ability-to-Repay and usually make the loan a Qualified Mortgage (QM) under the CFPB's definition. The "reasonable, good faith determination of a consumer's ability-to-repay" means mortgage companies vigorously verify a borrower's income through the following most common sources (typically over a period of 2 or more years):
Paycheck stubs
W-2s and/or 1099s
Tax returns
Written verifications of employment
Who needs a non-QM Loan?
Investors, self-employed borrowers, and foreign nationals are the most common borrowers of non-QM loans. While self-employed borrowers may not have tax filings to support traditional income verification, investors might just be interested in lower monthly payments.
These non-traditional features provide lower monthly payments, but can cause a loan to be considered non-QM:
Balloon payments
Negative amortization
Interest-only payments
Loan terms greater than 30 years
Non-QM Loan Qualifications
Here are some examples of non-traditional methods mortgage companies use to qualify a borrower for a non-QM loan:
Personal bank statements – Calculating deposits over a 12 or 24-month period
Business bank statements – Calculating deposits over a 12 or 24-month period
Calculating the ratio of rental income to total housing payment for investment property loans. These loans are known as Debt Service Coverage Ratio (DSCR)
Loans for foreign nationals with various methods of verification
Calculation income based on existing assets/asset utilization
1-year W-2/1099 or 1-year self-employed (traditionally, 2 or more years are required)
12-month Profit & Loss statement, a letter from an accountant, with 2 months of business bank statements
There are many loan options available to fit a wide variety of home financing needs.  Speak with a licensed loan officer regarding the differences between a QM and a non-QM loan and which loan is best for you.
E5 Home Loans' experienced loan officers guide borrowers through the process of finding the best loan product. Contact E5 Home Loans for any questions or to see if you qualify for a conventional or non-QM loan. We do loans fast while providing 5-star service and without charging a bunch of crazy lender fees.